Up to the minute Apple and Mac news alerts
[2018-10-10 13:34:00]
There aren't many Qi pads out there that can charge iPhones at the maximum 7.5W speed, and this Anker pad is one of the cheapest we've seen to date. Just note that it requires a Quick Charge 3.0 charger, which is not included, so you'll need to provide your own....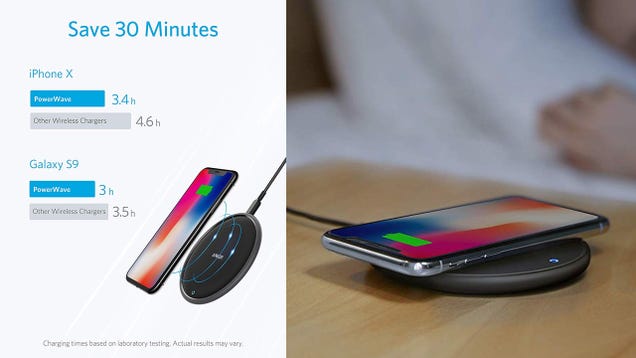 RELATED
!
Apple Again Denies Chinese Spy Chip Story, This Time to Congress
Homeland Security Denies Report Chinese Spies Put Tiny Microchips on Apple, Amazon Servers
Reports: Newest MacBook Pro Bricked If Not Repaired By Apple
Apple and Amazon Call Bullshit on Chinese Spy Microchip Report
Apple Watch Series 4 Review: A Giant Leap
iPhone XS Guts Report: How Fast Is the A12 Processor, and How Good Is the Battery Life?
Tim Cook on Why Apple Banned Alex Jones: He Sucks
iPhone XS Chargegate Fix Is Apparently on the Way
Major Complaints About the iPhone XS Are Stacking Up
Outfit Your iPhone In a .33mm Thin Case For Just $10 [Exclusive]
FBI Makes Child Porn Suspect Unlock iPhone X Using His Face 
Did the Release of the iPhone Cause Millennials to Move Back in With Their Parents?
Add a 1" Sensor Camera To Your iPhone For Just $112, Today Only
Code Discovered in iOS 12.1 Beta Suggests Apple's iPad Event Is Coming Very Soon
---
---