Up to the minute Apple and Mac news alerts
[2019-10-25 10:00:00]
Even as iPhones and iPads have dramatically increased internal storage, you can still fill them with music, photos, and videos—and attachments sent along with messages. Apple lets you delete these attachments, although it's a bit of a convoluted process. Remarkably, these deletions don't sync across your devices with Messages enabled in Cloud—even though the messages themselves do sync.Here's how to manage attachments in Messages.Delete attachments in iOS and iPadOS IDG You can hold and tap to delete individual attachments from Messages in iOS.To read this article in full, please click here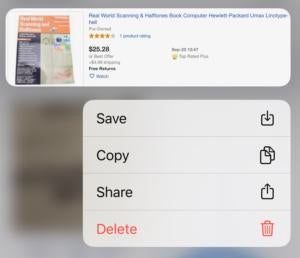 RELATED
!
13 classic horror films to stream this Halloween
Graber Virtual Cord Motorized Shade review: Deliciously decadent lighting control
Apple TV+ FAQ: Everything you need to know
iPhone rumors, Mac rumors, your hot takes, and more
Got a 32-bit app in Catalina? You don't have to delete it
Google Nest Hub Max review: This surprisingly svelte smart display is a great cook's companion
OVPN review: A solid performer, with very good privacy promises
How to allow untrusted Shortcuts in iOS 13
What's next for the MacBook Pro?
NetNewsWire 5 review: Venerable Mac RSS news reader goes back to basics
iPhone SE 2 rumors: iPhone 8 body with an A13 processor
How to selectively choose what photos sync in Photos for Mac
Responsible parties: You don't have to buy an iPhone
Apple AR glasses rumors: Latest reports point to 2020 release
Night Sight fight expanded: The Pixel 4 is no match for the iPhone 11 in low light
---
---