Up to the minute Apple and Mac news alerts
[2018-12-05 17:10:00]
A copy of Macworld's first issue that was signed by Steve Jobs will head to auction between December 6 and December 13 on RR Auction, and I'd totally be on that if I had more cash to throw around. Not only is our February 1984 issue one of the better-known artifacts of Apple history, but Jobs' autograph on this issue is particularly remarkable as he wasn't fond of giving them out. RR Auction First issues of our magazine usually fetch good prices on their own, but RR Auction estimates that Jobs' signature on this copy will fetch around $10,000.To read this article in full, please click here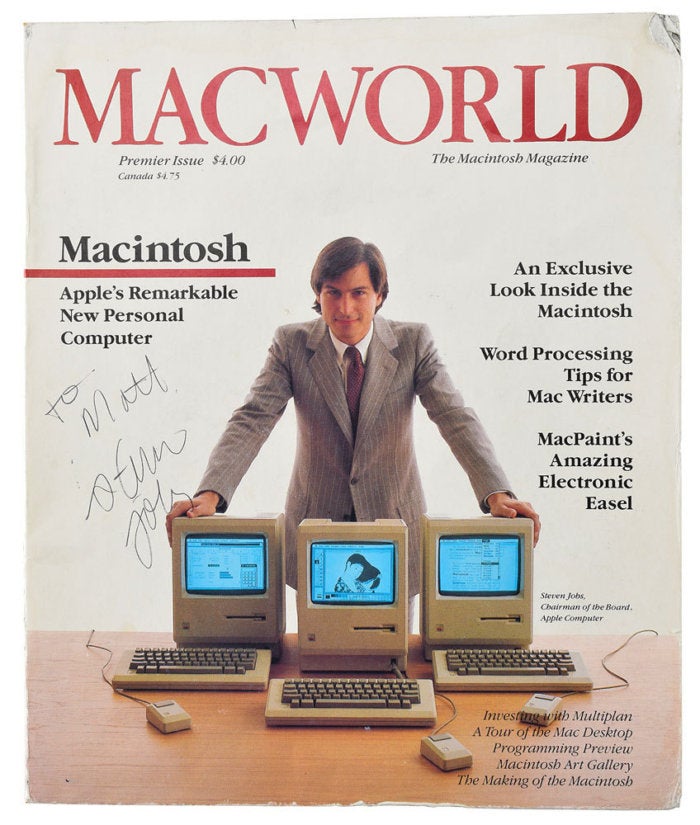 RELATED
!
Macworld Podcast today, at 10 a.m. Pacific: Your hot takes
How to use iCloud for continuity when restoring from an iOS backup
Online security tools: The holiday gift that shows you really care
Is Apple's TV service bound for the Apple TV's competition?
Is Apple's TV streaming service bound for Apple TV competitors?
We want your hot takes for the Macworld Podcast
Your Mac won't type U, I, O, J, K, L, and M? Here's why
Loft Portable Battery Base review: Take your Google Home anywhere with this easy-to-use accessory
The 10 iPhone and iPad games you need to play from October and November 2018
New wireless charging AirPods rumor could mean Apple is finally going to release AirPower soon
Best DNA testing kits: Discover the secrets stored in your genes
Philips Hue Calla outdoor pathway light review: A sophisticated outdoor lighting system
The $29 iPhone battery replacement program ends on New Year's Eve
SaferVPN review: This newcomer is off to a good start
Arlo is planning to launch a 4K smart home security camera next year
---
---