Up to the minute Apple and Mac news alerts
[2019-03-29 16:21:39]
Following the launch of its Apple News+ magazine subscription service, Apple is preparing to close down the standalone version of Texture for all users at the end of May, with the notice of closure urging customers to try out the new Apple News subscription instead.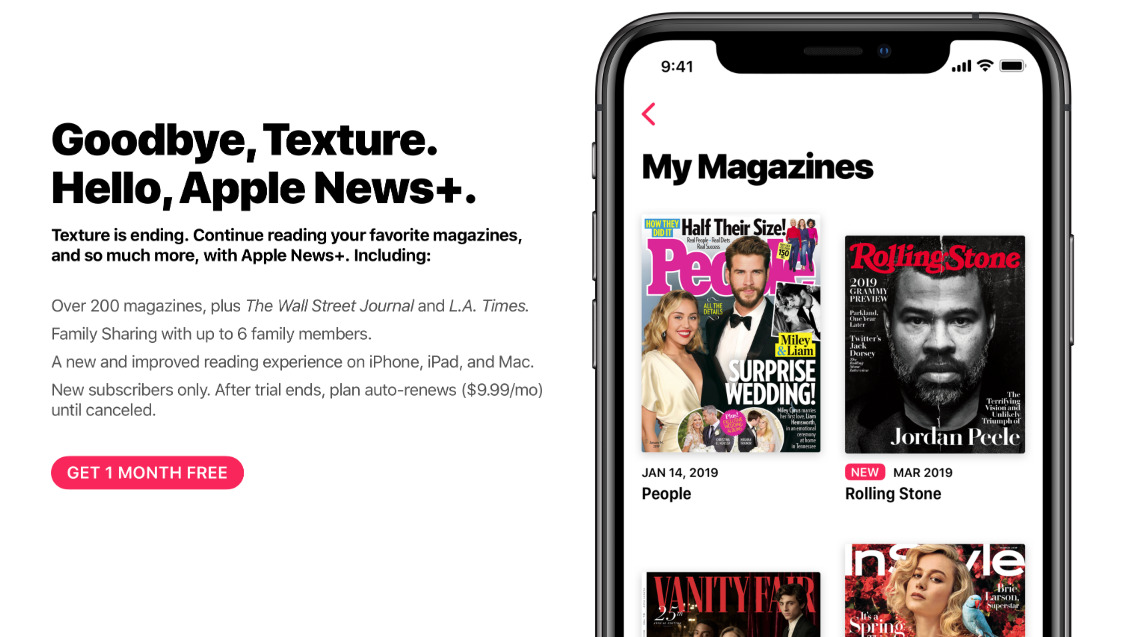 RELATED
!
Apple engineer who led development of A7 through A12X chip cores departs company
Apple cancels AirPower wireless charging mat, citing quality issues
Man pleads guilty to hacking celebrity Apple accounts for spending spree
Everything new in iOS 12.3 & tvOS 12.3: New TV app!
Benchmarks for high-end iMac 5K show 75 percent speed gain over 2017 model
The new TV App is coming to third generation Apple TV hardware
Apple provides first developer betas of iOS 12.3 and tvOS 12.3
Behind-the-scenes feature shows how Apple Watch has veered away from high fashion
Apple expands App Store Search Ads to 46 more countries
Apple services chief Peter Stern described as well-liked, but not interested in solving media industry woes
Apple profiles dance choreographer Hope Boykin to promote AirPods
US FTC orders Comcast, Google, AT&T & others to share full details on data collection practices
ITC judge recommends partial iPhone ban in Qualcomm patent fight
Shortcuts 2.2 update adds Notes app and number extraction automations
---
---